Thoughts on a COVID world, grit and loneliness.
One way or another, we have to learn to keep moving forward.
Welcome to my first newsletter! Thank you for joining me.
Just a bit of additional housekeeping…
My suggestions are embedded within the text as links. The format I favour is to write a few lines for context around anything I am hoping to suggest. This context is basically a bit of internal reasoning I have done before getting into the material.
If you want to engage with this newsletter, like providing feedback or starting a conversation, I encourage you to either visit my Substack website and write a comment under this new post, or you can also just hit reply to the newsletter emails. I would be very happy to hear your thoughts. Also, for best results, please view this email from your computer.
Let's take off.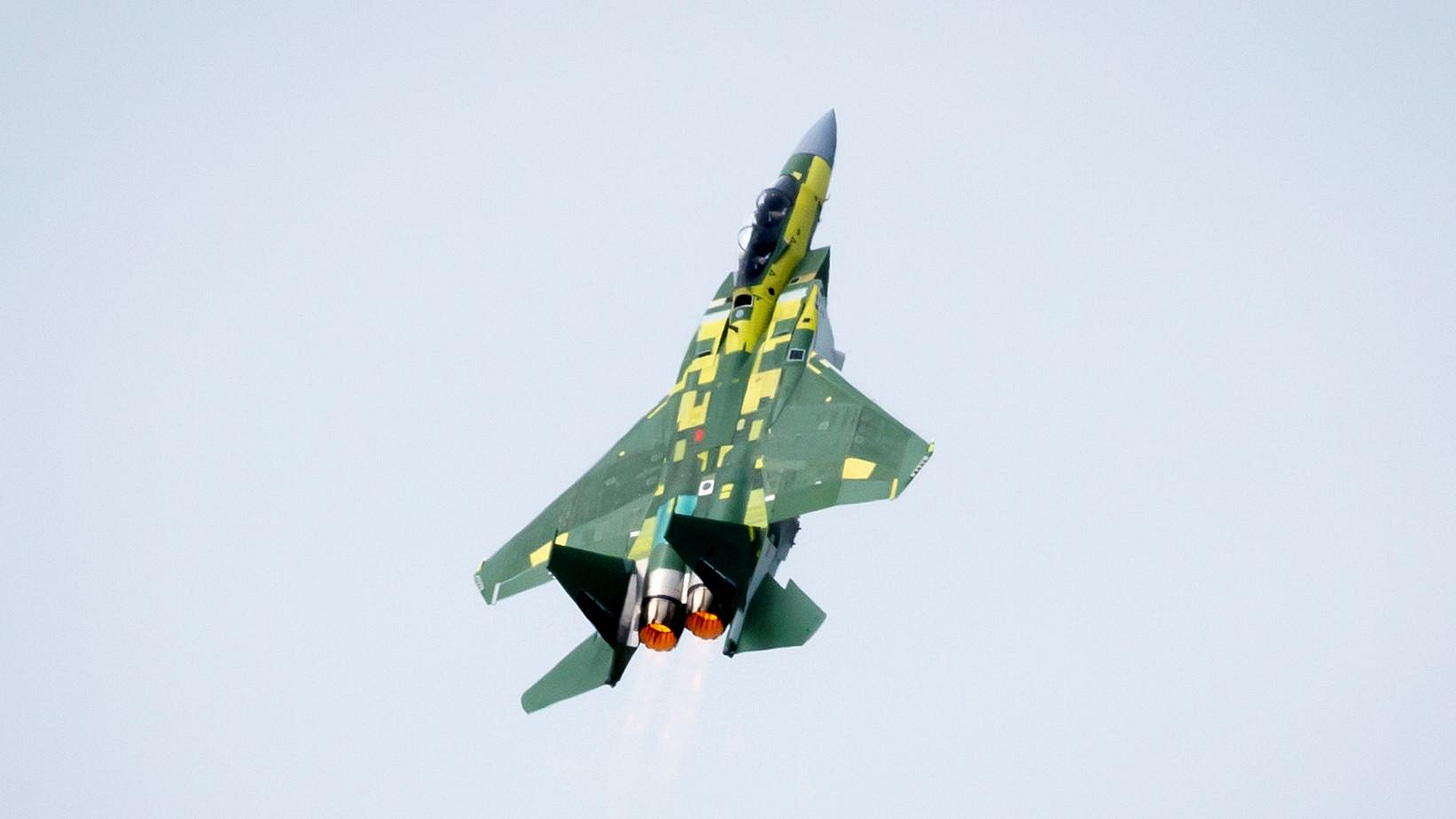 This is an F-15 QA performing a "viking takeoff" (
image credits
). It is the newest variant in the F-15 arsenal. The jet reportedly features the world's most advanced computer processor on a fighter jet, capable of processing an astronomical 87 billion instructions per second. This allows it to process and seamlessly display heaps of data in live-combat scenarios from multiple assets in air as well as on the ground, enhancing its mission operability and making the plane more "survivable". This new F-15 is currently poised to enter service with the Qatar Emiri Airforce, hence the designation "QA", which stands for "Qatar Advanced". The United States Airforce is also expected to place an order for a couple of hundred of these new F-15s (which may get designated as F-15EX in the service of USAF) to replace it's older F-15 A/B/C fleets. This is one instance where the USAF will greatly benefit from the newer technology upgrades on the F-15, the development of which Qatar has paid for.
---
Earlier this month, I shared my initial thoughts on COVID-19 as a reaction to a shifting and evolving reality. The world just shut down.
Here are some more thoughts…
Undeniably and regrettably, a lot of conversations we will hear and experience around us are going to reference this pandemic, at-least for the foreseeable future. When the Spanish flu ravaged across continents a century ago, the world was enveloped by the Great War and nations were still reeling from its aftermath. Transparency was of little priority (which is also partly why the term "Spanish flu" developed synonymity with influenza, despite the virus having no connection whatsoever with Spain), and there was a dearth of well-constructed private narratives of those people who endured the onslaught of nature. Our times are different, and for data scientists of the future, there will be a treasure of data points to tap into and reimagine the behaviour and responses of our species in these distressing circumstances. If healthcare systems across the world ever needed a makeover, now is the time to talk about it. This is an opportunity to retranslate and reinterpret our understanding of the strengths and fragilities of various systems that bring life to the status quo. As Arundhati Roy puts it:
Historically, pandemics have forced humans to break with the past and imagine their world anew. This one is no different. It is a portal, a gateway between one world and the next.
Can we replicate stress-testing measures across vital services and industries similar to the ones currently practiced in the financial sector? For those not familiar with this concept, stress-testing is a financial instrument that helps determine the performance of a particular institution in the face of an economic crisis or an external shock. Think of this as a financial equivalent of stress-limit testing of an elastic band: how much can you stretch the band before it breaks? In 2005, the Chief Economist of Freddie Mac, Frank Nothaft, gleefully proclaimed the company's stress-test results as successful and watertight. Freddie Mac's stress-test model at the time only accounted for a drop of 13% in home prices. Ultimately, the financial crises of 2008 saw an unprecedented depreciation of home prices in the range of 30% to 50%. The variables may have been poorly selected, but the concept still has value and promise.
Here's why this would make sense: the entire reason the world has practically shut down is to counter the spread of the coronavirus. Governments have kamikaze'd their economies in the short-term and possibly even in the long-term simply to support their health-care systems in fighting this scourge; any healthcare system can only accommodate a certain number of people at the same time, and flattening the curve would help moderate the delicate balance of increasing healthcare capacity and keeping the infection numbers low. In a way, it is a real-time response to a healthcare stress test with very real implications. What if healthcare systems, in times of now-forgotten-but-very-beloved normalcy, regularly constituted stress-tests to determine pandemic or other health emergency responses? We could be saving countless lives. Supply chains could be designed and engineered to readjust and function optimally if crisis were to hit. Can you think of a system or an institution you would want to stress-test? How about education?
This pandemic has impacted me personally in many ways; I have cherished the routine of meeting and hugging my friends everyday. Back in college, I read somewhere that hugging released oxytocin. There were many days where I would wake up only for the prospect of hugging my friends and family, a much-needed medicine for an uncertain day promising some form of unwelcome hardship. It used to work, it still does. Around 6 PM everyday when I go out of my residence to catch some sun, my friends join me as we try and maintain social distancing. I miss hugging them and comforting myself. The tragedy of this pandemic is that it implores us to stick together as a global community, which starts with the people around us and close to us, and yet it asks this of us in the language and unfamiliar reality of separation. This slow-burning denial of necessary physical presence has left me feeling a shade off color.
Fortunately, there are still some ways in which I'm trying to feel connected with the world. For starters, I discovered and joined Lunchclub, an exclusive community of people seeking likeminded individuals to bond with, to build something with, to share interesting ideas with or to simply get a chat going. I have had detailed and interesting conversations with start-up founders, high-achieving lawyers, campaign managers and financial analysts since I joined the platform. If something like this interests you, may be you can also try signing up for Lunchclub here.
---
I've always hated running, but have admired the grit of long-distance runners
.
Long-distance running is painful and sometimes even boring, but despite that, to continually push beyond pain thresholds and to train your mind to conquer adversity is inspiring. Nicolas Thompson, who's the editor in chief at the WIRED, penned a long essay on his journey with long-distance running, and how he was able to break his own performance barriers at the age of 44. Not only is Thompson's story elegantly written (the analogies are very well crafted), but it also draws comparisons with the real marathon of life that should, on paper, appear disjointed from long-distance "sport" running. There's a lot to take away here if anyone's eager to positively conflate exercise to personal development that is beyond just the physical manifestations of our bodies. The only thing that stumped me is the title: how could someone who's been running from age 15 outperform their *supposed* younger self in terms of physical output at age 44? Shouldn't our bodies deteriorate as we get older?
I used to think of athletic ability as a mountain. You're born at the base, and you'll die there too. In between, you climb higher and higher until you begin to descend. But that analogy isn't quite right, because as you get older you acquire wisdom that helps you train better. I've realized that the better analogy is of rolling peaks. You go up, you go down. At some point, you reach your peak, but there are still vistas as you descend.
As an aside…If you're on LinkedIn, you will find Thompson's "the most interesting thing in tech" daily brief vlogs to be insightful about current developments in the tech industry. No matter which industry you belong to, keeping a tab on the beat of tech is important.
When you're running and you feel fatigued, you can simply stop, grab a drink or snack, rest for some precious seconds and recover. But now imagine that you're swimming long-distance into the ocean in pitch-black darkness - may be carrying yourself against a cross-tide and trying to stay on course - how do you stop and take a breather?
There are mysterious creatures lurking beneath, and sometimes due to weather patterns, many long-distance swims begin in the darkness. You can't see your arms or an inch ahead of you, anywhere. If you turn on the lights, that will attract hostile creatures. Now that's scary, and the mental fortitude required to keep moving in this situation must be incredible.
This is Diana Nyad's story, who swam from Cuba to Florida in shark-infested waters at the humbling age of 64 years. This was Diana's fifth attempt in thirty-five years to swim this journey and complete it, which she couldn't manage in her other previous four attempts. Doesn't this defy our traditional understanding of athletic ability? How can someone get so better with time, at that age? To this, Diana would say:
Find a way
And she did. Do listen to her incredible TED talk where she discusses breaking mental barriers in adverse and surreal circumstances. I have a feeling that given the global trauma our generation is presently enduring, we have to learn to find a way and keep pushing forward.
---
All of a sudden, loneliness has been swung into the epicentre of our shared experiences, when only a few months ago, it reclusively resided within the peripheries of second-grade societal priorities and concerns.
How often have we heard pleadings and arguments for the urgency of decompressing and practicing solitude. In some shape or form, the way solitude has been painted in our imaginations has had an intimate relation with loneliness. May be, in some rationale, that lead to an echo chamber of our own thoughts, no longer crowded by the fast pace of life and work. There are no people around you to influence your unadulterated thoughts. You can just dive in.
Now, as it appears, loneliness is in-fact terrible. Solitude is welcome, but its unholy combination with loneliness is only premised upon the promise of an immediate reset whose resumption is well within our control. Personally, I have been struggling to separate myself from my own dark thoughts and to think of this lockdown as an opportunity to grow. Can we come out of it as better people? I don't know, but what I do know is that one way or another, this pandemic has cast a vicious trauma on our collective psyche.
In the hopes of understanding myself better in these times, I turned to TED Radio Hour's latest podcast episode "meditations on loneliness"; one of the individuals that the host engages with is Suleika Jaouad, who battled leukaemia that confined her to her room for a large part of her twenties. Jaouad quotes the beginning sentences of Susan Sontag's book "Illness as Metaphor", which I think are quite profound:
Everyone who is born holds dual citizenship, in the kingdom of the well and in the kingdom of the sick. Although we all prefer to use only the good passport, sooner or later, each of us is obliged, at least for a spell, to identify ourselves as citizens of that other place.
For Jaouad, recovery from cancer felt like being suspended between these two kingdoms; she felt like she belonged in neither. It is pretty clear that life for many has already changed drastically, and will continue down that path even when things start to feel a bit more normal. I wonder if people, who've just moved to a new city, will ever get to experience the defining nature and character of the space that now has become unfamiliar even to its residents.
We all have a lot to say and share. Suleika has started a new project, which she's calling "the isolation journals". If you sign up, you'll receive a daily prompt to write and share with whomever you choose to be your audience. It promises to be a very interesting exercise that can culminate into a vast collection of viewpoints and stories people generally are unaware of.
---
That's all for now.
If you have any thoughts to share about what you've just read, please let me know.
Feel free to send me suggestions for articles, podcasts, music or more that you think me and my list should get familiar with!